According to the Ministry of Culture, the Czech Philharmonic must "completely change its economy management". The audit doesn't report any fraudulent activities, rather incompetency of
Mr.Riedlbauch
and
Mr.Darjanin
. Mr.Riedlbauch was the Director General from 2001 to 2009, when he became the Minister of Culture of the caretaker government after the
international embarrassment
fall of the regular government during the EU presidency, and Mr.Darjanin took over.
Vladimír Darjanin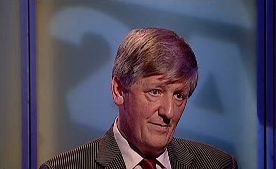 Václav Riedlbauch
_____________________________
However, ten months later, Riedlbauch dismissed Darjanin and appointed
Václav Kasík
- without a tender. After protests by the philharmonics, Kasík resigned at the end of August, and since then the director of the Czech Philharmonic is Radek Zdráhal, a deputy of the Minister of Culture.
Musicians protesting against Kasík in front of the Rudolfinum,
suggesting that he got the post out of acquaintanceship.
Mr.Darjanin had arranged a concert and workshop with the starry pianist Lang Lang, and the season was supposed to end with style, with Dmitri Hvorostovsky's concert in the
Spanish Hall
of the Prague Castle (it's the beautiful golden-white hall where Obama and Medvedev
signed the New Start
treaty). The philharmonic are arranging alternate dates for these two concerts, but it seems that it won't be before 2012.
Source of information and images:
Czech TV