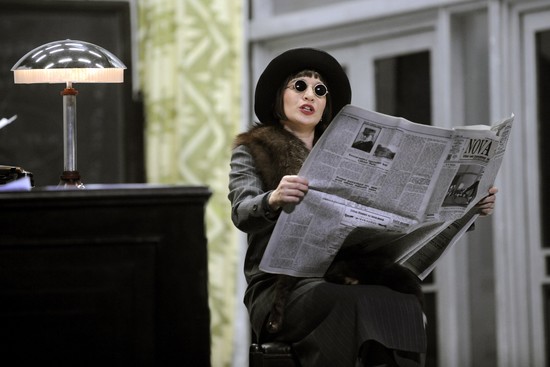 Věc [vyets] Makropulos at the National Theatre, Prague.
While Christopher Alden's production has been praised by the critics both
here in Prague
and
in England
, I am not so positive about it.
Janáček's opera
, based on Karel Čapek's
play
, is about the last few days of Elina Makropulos. Thanks to a magic potion, she has lived for more than 300 years. She's grown cold and cynical, but the life experience gives her an aura which, together with her appearance, drives all men crazy - about her. The relatively short opera (1:30) is written in a modern fashion, close to expressivism; after all, it was composed in the 1920's. Only in the end, when E.M.'s vulnerability and despair is relieved, the music suddenly grows into a lyrical finale, strikingly contrasting with the rest.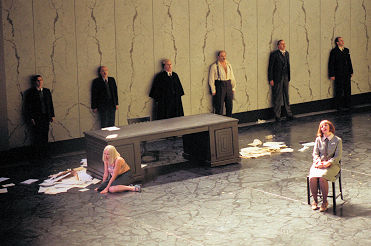 Čapek's play is actually a philosophical comedy. However, I believe that the story is open to various approaches, and Janáček's opera with the added death of E.M. in the end is hardly a thigh-slapper. I suppose an absurd comedy (a genre typical for the Czech country) or a realistic, deep psychological study are the possible approaches.
Mr.Alden, on the other hand, chose to set it into a noir world of shades of gray, in which people behave without much restraint. His production is an example of the general tendency in today's opera world to "coolify" everything from Baroque. Everything must be cold and erotic, beauty and sensitivity are taboo.
This wouldn't have to be a problem in an absurd dramedy, but only to a degree. Mr.Alden had many interesting ideas, obviously understands the opera, his direction is very intelligent and I find the basic concept quite valid. So much for the good news.
Restraint isn't a word to be found in modern directors' vocabularies. Where a suggestion would have been just perfect, we get everything in the face (including one taking-off of a shirt - there must be one in every prod!). Even given the hyperbole and symbolism of the production, characters lacked a concept of personality, their behaviour being quite illogical. When the philosophy behind should have been stressed, it was overshadowed by the darkening and eroticizing. Even though this is just one paragraph in this review, it's a big problem with the production. The worst in this aspect was Act II, which was simply overdone.
My impression of Alden's production is 70%. The singers were good, especially
Gun-Brit Barkmin
in the title role was great, and the acting was excellent, so it's definitely worth seeing.